NYSTRØM GENEALOGY
Welcome to my genealogy pages

These pages are translated from the Norwegian originals.
Unfortunately, the individual information is in Norwegian. Still, I hope that you may find the web pages interesting.
Feel free to send me an e-mail with questions and comments.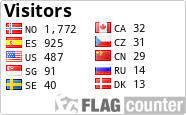 My name is Odd Nystrøm, and I was born and grew up in the small town of Lillestrøm, east of Oslo.
My father Thorbjørn Nystrøm came from Strømmen,outside Lillestrøm. My grandparents were
Karl Oskar Nystrøm (b. 1878): Kråkstad, Eidsberg, Askim, Trøgstad. Sørum, Aurskog, Eidskog, Grue, Nes (all in Norway)
Augusta Vilhelmsen (b. 1874): Lier(Norway), Sweden (Värmland, Dalsland, Stockholm, Göteborg), Finland, Germany.
Choose the link "Karl and Augusta" to read more about this branch.
My mother Elfrida Carlsen lived all her life in Lillestrøm. Her parents were
Carl August Christophersen (b. 1860): Lillestrøm, Skedsmo, Østre Aker, United States
Caroline Martinsdatter (b. 1865): Lillestrøm, Sør-Odal, Vinger, Eidskog, Nord-Odal, Germany (Schleswig-Holstein, Sachsen)
The link "Carl and Caroline" takes you to pages related to ancestors from Lillestrøm /Skedsmo, Sør-Odal and Germany.
Thanks to the works of Orlando Scholl and Vickie Steen, it has been possible to lay out the descendants of Tron Andersen Steen in the United States.The family emigrated to Iowa in 1853. Follow the link "Steen in America" to rread more. Unfortunately, all personal information is in Norwegian, and it is recommended to use translation tool like Google Translator to read the contents in English.
This Day in History
This Day in History provided by TheFreeDictionary
---
Under "Resources" there is a link to my daughter's ancestors on her mother's side. There are several well-known Norwegian families - Isachsen, Steenstrup, Krane, Collett, Stockfleth and Ancher.
---
Genealogy program: Min Släkt v. 4.0 - Send e-mail - -
The following text will not be seen after you upload your website, please keep it in order to retain your counter functionality
Free TrackersHelp