NYSTRØM SLEKT
Updates
Changes and maintenance

These pages are translated from the Norwegian originals.
Unfortunately, the individual information is in Norwegian. Still, I hope that you may find the web pages interesting.
Feel free to send me an e-mail with questions and comments.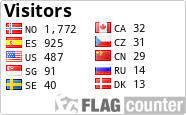 Updates

Date

Clean-up and updates of the database and web pages
After searches in the database "Tombstones in Norway" from DIS-Norway, some dates and events have been added. A number of new persons are added as well.
The web pages have been tidied up, and links are updated.

A new GEDFIL has been uploaded.
The database now contains 1971 persons.

30.05.2016

Upgraded to MinSläkt 4.0
The genealogy program was upgraded from version 3.7 to 4.0.
There will not be any visible changes in the web pages, except that HTML files are generated as UTF-8 files instead of ISO-8859-1.

01.05.2016
---
Genealogy Program:
I am using "MinSläkt" from Dannbergs Data - a Swedish genealogy program.
The program has a simple user interface, and a handy function for generating web pages.
---
Genealogy program: Min Släkt v. 4.0 - Send e-mail