NYSTRØM GENEALOGY
Carl August Christophersen and Caroline Amalie Martinsdatter

These pages are translated from the Norwegian originals.
Unfortunately, the individual information is in Norwegian. Still, I hope that you may find the web pages interesting.
Feel free to send me an e-mail with questions and comments.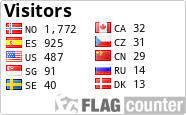 The sawmills and the railroad were the basis for the industrial development in Lillestrøm. Already in 1875 there were 8 steam sawmills there, and around 40 percent of the male population were employed in the sawmill industry.
The system of privileges for sawmills (established 1688) was abandoned from 1 January 1860, at which time any citizen was free to establish and operate these. Knut Haaseth - a parish clerk and teacher from Brandval - was one of the principals at the establishing of the first steam sawmill in Lillestrøm. In 1859 the Brandval sawmill (or Brandvold mill) was built. Carl Christophersen was employed at the sawmill. He was a sawmill master, as was his father Christopher Jørgensen before him.
Carl and Caroline were married in 1885, og settled in "Gamlestua" at Nesa in Lillestrøm. Like 40% of the working population in Lillestrøm, Carl was a sawmill worker, and he eventually became a master sawmiller. During the late 1800's there were 10 large steam sawmills there. Life at and around the sawmills in Lillestrøm was therefore of great importance for most families, and boys started working there as early as 12 year olds.
During the long winter it was difficult to make ends meet as a sawmill worker. The river Nitelva was frozen, preventing the rafting of timber to the sawmills. Numerous sawmillers therefore had to find other work in Eastern Norway in the wintertime, many as workers at mobile sawmills ("transportsager"). But in the springtime they returned to Lillestrøm, as the sawmills opened again for the summer season. Carl has described the homecoming in his song, "Lillestrømsagmesterens Vise" (The Lillestrøm Sawmiller's Song, written 1909):

In spring we return home with the graylag goose, having survived the winter so harsh.
On our way home, we head for the town. Before splitting up, we drink a farewell toast.
The farewell greeting done, we head for home in the best of moods.
(my apologies for the bad translation and the lack of rhyme).

The family lived at Nesa in Lillestrøm. They built their house there, and that is where all the childre grew up.
Harald Hals has written about the sawmill industry in his book "Lillestrøms Historie" (The History of Lillestrøm). A typical work day at a sawmill (Skedsmosaga) is also described in an article from "Lillestrømlingen" 7/86, written by Wigo Skråmm told by Einar Meyer). Unfortunately, these are only in Norwegian.

This is Mjølnergata in Lillestrøm where I grew up. I took this picture during the flooding in 1967.
My grandparent's first house ("Gamlestua") was located in what would be the middle of the street today. Carl and Caroline built a new house in 1917 (the second house on the left side in the picture)
---
Genealogy program: Min Släkt v. 4.0 - Send e-mail - -
The following text will not be seen after you upload your website, please keep it in order to retain your counter functionality
Free TrackersHelp