NYSTRØM SLEKT
The Steen family in America
They sought to create a new and better life for their families and themselves

These pages are translated from the Norwegian originals.
Unfortunately, the individual information is in Norwegian. Still, I hope that you may find the web pages interesting.
Feel free to send me an e-mail with questions and comments.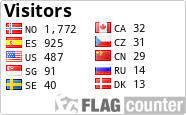 Continue to
In the year 1853 the Steen family moved "from the farm Steen to America" as the priest in Aker Church wrote in the parish register under the "Moved Out" section.
The whole family was on the move, parents and children: Thron Andersen 51 years, Ingeborg Halvorsdatter 49, Martin 19, Carl August 16 3/4, Theodor 14 1/2, Johan 11 1/2, Hildus 9 3/4 and Otto Frederick 7 years.
That same Day, on April 8, the family got their passports at the Christiania (Oslo) Police Station. One name, Ole Christian 23 years, is crossed out and reappears as a separate passport on April 11 for apprentice tailor Ole Christian Thronsen Steen. The reason for the small delay was that he had forgotten his discharge papers from the Infantry Corps. This he received on April 10. They were thus a family of nine who traveled the long journey to the Promise of America.
In an article written not long after the Civil War, Otto Steen tells about the travel to America and his own experiences during the Civil War.

The family booked passage on the sailing ship "Argo". Under the command of Captain G. Müller Argo left Christiania on April 13 and arrived in Quebec on May 28. Finally, on June 24 1853, they arrived in Winneshiek County, Decorah, Iowa knowing only the people who arrived on the same ship. Here is the newspaper ad for the passage on Argo to Quebec in 1853.
The oldest of the brothers, Andreas Thomas Steen, did not go with the rest of the family in 1853. He stayed behind in Christania, working as a constable. He married Birthe Karine Larsdatter in October 1853, and they had two daughters, Ingeborg and Thea. After Birthe died in 1860, Andreas married Nicoline Conradine Henriette Schultze on the 5th of February 1861 (in Grønland chuch in Christiania). The same spring, On the 8th of April 1861 they left Norway, going to Iowa. The emigration records state: "Constable Andreas Throndsen Steen and wife Nicoline Conradine Henriette Schultze (32 3/4 and 28 1/4 years). From Enerhougen to Iova in America.".

Prairie church - South Dakota
Tron Steen bought a farm - 80 acres - for 200 dollars, and the only building was a one-room log cabin of 14 by 16 with a loft that was reached with a ladder from the outside.
---
Genealogy program: Min Släkt v. 4.0 - Send e-mail